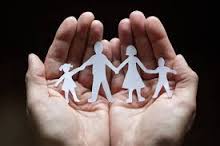 The Full Moon of Capricorn – Cancer always highlights the attempt to manage family and career, as well as the gap between being an adult to being a child, or a senior. This time though, there is a way to bridge those aspects of ourselves in a new way.
We all have our family stories, heritage, those small tidbits that make our family what it is, that make us who we are. The story about how grandma met grandpa, the story of when and how they immigrated to another country, the stories about the legendary uncle and so forth.
This full moon we can get a glimpse into those myths and legends, we can see those figures as the human beings that they were. They were great in some respect, and at the same time they were people, filled with weaknesses, idiosyncrasies, ideas, wishes – just like us.
Take time this Sunday to get behind those feelings and views that you have about your family, and see them as they are – people. Men and women doing their best sometimes, failing at others, see them with compassion and let the stories re-arrange themselves.
You can take it one step further, and be bold enough to take a look at your parents. We all have a distorted view of our parents. We all carry expectations and wishes that have not been fulfilled, we all either admire them more than they deserve, still a bit afraid of them or the opposite, we see their weaknesses and exaggerate them. Be bold this Sunday; let your parents be just regular people. Let them be just regular people, let them be who they are. This is a major step towards healing family karma, towards freeing yourselves from the past.
This is also a good time to heal your relationship to your home. Let yourself be happy where you live, allow yourself to feel the warmth and the security of a home.
Astrological Weather:
In the upcoming days Jupiter enters Cancer, bringing expansion, hope, optimism, and the ability for re-birth. Sagittarians and Pisces will get a bit of an energy boost that will make life more tolerated.
Saturn will turn direct in Scorpio, helping all the Scorpios, as well as the Capricorns and Aquarians express their understanding of the past few months, they will also see their activities move forward at a faster pace than in the past 4 months.
Mercury turns retrograde in Cancer which will cause new communication within the family, some secrets being revealed, and a heightened emotional reaction.
Full moon
2
° Capricorn / Cancer  is on May 23, 11:32 GMT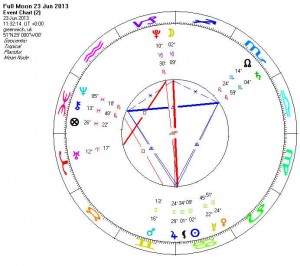 Full Moon horoscope:
The horoscope of the full moon is offers a genuine hope for healing, for bridging different parts of yourself. The Sun / Moon opposition is part of a kite formation with Saturn and Neptune.

This configuration suggests a possibility of healing wounds, of reconnecting to the present with a new sense of who you are. when we think of ourselves, we immediately add to the thoughts who we want to be, rather than who we are right now. This horoscope, with all the personal planets out of major configurations (Venus and Mercury conjunct is Cancer, Mars in Gemini) – is a good time to let go of all those wishes, and ideas regarding who I want to be.
Another vice in thinking about yourselves is the attempt to define yourself according to what you do. The answer to the question who are you is your resume. This is true to a point, but this time when you think of who you are, can you let go of what you do, your title, and your work achievements and see what is left. That small essence that is there behind all those functions, try and reconnect with it.
When Saturn, the planet of limitations and opportunity meets Neptune, the planet that dissolves those very same boundaries, and offers unlimited compassion, when they meet in harmony, we all get a chance to forgive, to heal and to create new sense of where we start and where we end. With the Sun and the Moon joining in, the Capricorn moon which is so harsh sometimes, can offer real opportunity for growth, for internal maturity of the right kind, and even a sense of hope.
Meditation points to ponder in this full moon:
Who are you behind what you do and who you want to be?
Allow your parents to be just regular people
Allow your feeling nature to lead you into uncharted territories of maturity