These past two weeks were hard on all of us. The new moon in Cancer, which had so many violence in it, erupted.  The shooting in Aurora by someone who is so disconnected from any sense of belonging, the violence in Syria which gets worse every day, in which a Government is killing its own population in the name of power.
This coming full moon in Leo / Aquarius is finally a chart in which there are many ways to release tension, and there's even hope in it. The sense of separateness is still there, the Sun in Leo highlighting the Ego, while the Moon in Aquarius can be more reparative than any other sign – yet, Jupiter in Gemini in harmonious aspects to both enables us to talk about issues, to communicate, and have some hope of finding a common ground while at it. The Sun is also in a harmonious aspect to Uranus, Aquarius ruler, also helping in ushering some new solutions to old problems.
Leo and Aquarius are the human signs, they don't deal with material things, nor with principles – but with society. Leo is the integrated person who creates, have fun, and takes part in the world. Aquarius represents the way all personalities come together, form groups and become a society.
The theme of this full moon and our discussions in the next two weeks will be around the individual and society. Personal rights vs. the government role in each country will be discussed, hopefully not fought on. The frustrations are still there, each person has a different point of view, and holds dear other matters than other people. Yet all have to live together, and finding a way to do it can be very challenging.
Aquarius can be the revolutionary trying to better conditions for all; but can also be the one who keeps to himself and his high standards. Leo can be warm and generous; but can also not see anyone but himself.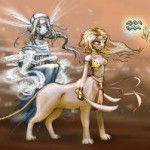 Both Aquarius and Leos have so much choice in their lives, and we all have it in this full moon. This choice is more private than global. The choices center on self expression vs. society's rules. This specific full moon is a good time to respect the human, each and every human deserves respect for the daily efforts. Try and celebrate that elusive component that makes us all sons of Adam, daughters of Eve.
The next two weeks will be a god time to say what you think, to create, go out and have fun. If possible, leave the worries aside for a while.
Meditation points to ponder in this full moon

:
Me and the large society – where do I fit in, where do I feel left out
Can I have some fun?
Where and when do I feel creative?
Full moon
Leo/Aquarius  is on Aug  2, 03:27 GMT, 10
°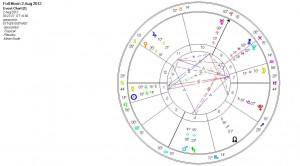 Full Moon
This full moon in Leo / Aquarius calls for a reflection on the individual with all his or hers talents, wishes, aspirations and so forth, and the society they all live in. Some feel left behind, some dislike the position they have in life, all want a better future for themselves and their children.
There are solutions and there are ways to integrate all, all that we need is respect for ourselves and for others.
Anyone with a planet on the 10° of the fixed signs will experience the need to breakout of some old patterns.