The theme for this Full Moon is hard to pin point. I was having a hard writing this article about the Virgo and Pisces when I came across a mother and a son, debating. The mother is a Virgo, and she wants him to do all his chores, get ready for school, eat, shower and just do all those daily routines that Virgos love (on time). The son is a Pisces, he couldn't care less about school work, eating, or tiding, he wants to watch TV, play and have time on his own.
We can all relate to these two energies in ourselves, no matter what sign we are. We all have the Virgo part that pushes us to do the right things like eat on time, shower, get to work and do whatever it is that we need to do.  We all have the Pisces part in ourselves that just wants to be without rules, without doing, and with a lot of space and imagination.
This is the story of Virgo and Pisces, one cannot be without the other, yet they find it so hard to cope, each with the demands of the other.
This full moon, is not as tense as the previous ones (Virgo and Pisces are not violent signs), but we will all still feel very uneasy. We cannot as yet settle down to a better pace, easier one. The issues of pain will come to the forefront: emotional pains, physical pains and we will all be confronted with the fact that our old way of treating them simply does not work.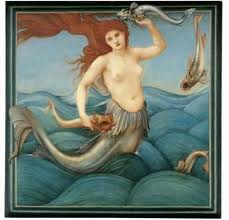 Pisces rules the divine healing, Virgo rules human healing – when they are combined and work together, we have good health, quick and real healing, when they are at odds, the patient suffers even more.
The planets that usually make us feel good, Venus and Jupiter, are both in adverse aspects to other planets. This will make every small pain so hard to bear, while the only support comes from Mars and Pluto – both demanding real changes, treating any discomfort from its root, making the sacrifices and the changes that are necessary to heal any pain.
This full moon has the energies of being very personal, each one of us to our own needs, our own fantasies and wishes, and our own life's demands. This is a good time to ask and take action in healing deep seated pain, the healing will require stepping out of the comfort zone, but it can be achieved.
Meditation points to ponder in this full moon:
The role of pain in My life.
What are the changes that I can take to relieve the pain?
Fantasy and imagination vs. practicality, can they go together?
Full moon 8° Virgo / Pisces  is on Aug  31, 13:58 GMT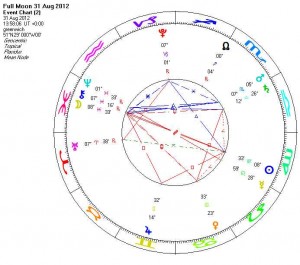 Full Moon
This full moon in Virgo / Pisces also brings up the issue of day dreaming and fantasy vs. analysis. Many many go through life daydreaming, many many others go through life over analyzing. This full moon can be a good time to let both sides come together, allow for imagination and analysis to work together, to just breathe with each other.
Don't try and solve anything, let ideas flow on their own. Intuition is after all Pisces and Virgo coming together, a bit of divine inspiration combined with common sense.
Anyone with a planet on the 8° of the mutable signs will experience the need to heal a wound.
You are welcome to ask questions and share your experience below