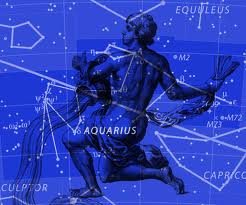 The new moon at 29°59'', the last second of Aquarius brings with it a very special energy: this is the new moon that concentrates on endings. This is a great time to end something you have been trying to for a while, but couldn't find the strength to do it.
Ending of relationships, ending of habits, ending of though patterns, endings of jobs, and of learning. It is best not to replace what is ending with something new, until after the solar eclipse in Aries in April.
The best thing about those endings is that they do not come with a huge fight. Aquarius is not a fighting sign, when they want to go, they just disappear, and many of them will go to great deal just to avoid a fight. Venus and Mars conjunct in Pisces do want to fight either, they just evaporate slowly, call less and less, and drift into a different direction.
You will not need a gather up the energy or the strength to let things go, rather, it is your tiredness that will let them go, many will feel that they don't have any energy, and in this way will stop holding on. This will release exactly what was needed to be released.
While the Aquarian energy of letting things be as they are is prevalent with some Pieces vibration of drifting into softer, more compassionate, or simply tired feelings, you can count on the sextile forming between mercury and Saturn to keep you safe from making any huge mistake. You will probably not harm yourself in a big way, if you just let one thing move out of your life.
How will it affect you individually?
You can be the one that stops answering the phone, you can be the one that stops a habit just because you are too tired to keep it up, you can be the one that decides that if something has not happened up until now, it probably won't happen in the future, and you can stop hoping and relying on this fantasy. You could be the same, but someone else in your life will be the one to make the small drift away from you.
Those of you who have been on a spiritual pursuit, this new moon is a great time to let the true wisdom enter in. this will make you feel a bit devoid of yourself for a few days, until the integration of this higher vibration is anchored in your day to day life. The endings will be so much easier, and nicer this way.
The new moon takes place on Jan 18, 1:47 GMT,  29°59''  Aquarius