The horoscope of the coming new moon is a tricky one, hard to pin point. Leo is one of the more human signs of the zodiac, and like any real human, it is very hard to predict what they will do. Will someone show generosity, benevolence, and other beautiful Leo's traits, or will someone do anything to keep their power, be a show off , and look for applauds that do not come?
This new moon will bring both of these qualities, the good and the bad, sometimes mixed together.  The struggle continues between the new regimes and the old powers all over the world. Last month's new moon featured Mars as the apex of the T square with Pluto and Uranus. This month it is Venus turn to be on the same apex.
Mars causes violence, and we have seen a lot of it, especially the unexplained violence that just erupts and hurts innocent people, with Venus, we will not see violence. What we can expect is Venus darker traits: manipulations, emotional extortions, and the tendency of people to hurt those closest to them (even if they are angry at someone else).
On the other side, the Sun/Moon conjunction is in a harmonious aspect to Mars and Saturn – those who know how to exert their extra energy will enjoy this. Activities that involve sports and working extra time are a good idea for the next two weeks.
The new moons these months are taking place at the end of the signs, after we kind of got used to the energies, and only a few days before the sun enters the next sign (in this case  – Virgo), so the effect of the Leo energy will be lessened in this coming new moon.
Still, we will all get a chance to be generous and have fun, we can all experience our own pride, and the way it either serves us or damages us (or both). The key issues of the new moon in Leo will be very personal. How do we value ourselves, what do we want from us? It is best to avoid comparing yourself to others in the next few weeks.
Questions? Ideas? You are welcome to post those in the comments section below, and I promise to answer.
The new moon takes place on August 17, 15:54 GMT, 25° of Leo.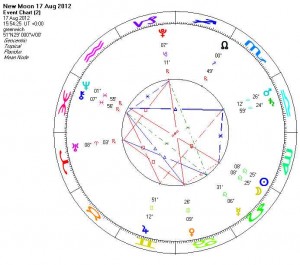 Leo
Element: Fire
Modality: Fixed
Ruler: Sun
House: 5th House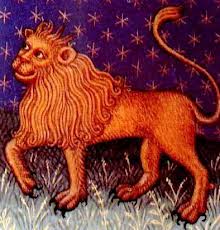 Leo is one of the most misunderstood signs. The Leos themselves find it hard to understand their own sign, and how to live it, so it is with other signs that find the Leos hard to understand.
Leos can be open hearted, magnanimous, fun loving and supportive, but if you try to restrict them or remind them that after all they are people like everybody else, they can turn on you with a surprising vengeance.
Leos like to feel that they are better than others, and they will make every effort to prove this to themselves and the crowds they see around. Many of them do have something unique, and there is a gift they can share with the world, as long as they learn how to cooperate with the world as it is and not as they want it to be.
The true Leo character is a unique combination of a great parent who remembers what it feels like to be a child, and therefore able to play and enjoy children, at the same time that same person can be a hard boss to her employees, demanding and overbearing.
The key to happy life to many Leos is the realization that they play their role to their eyes only, and learning some proportion helps keep them in the right track, which can lead to success.
New Moons:
New moons are the time for seeding. You are welcome to share what you are seeding in the comments section below.